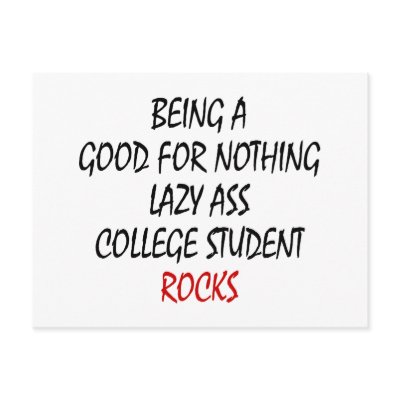 Our proposed small grad school, with its very intense workload, is evidently swimming against the trend. This op-ed, in 2009, created a mini-firestorm. Kara Miller teaches at Babson College. She wrote:
Teaching in college, especially one with a large international student population, has given me a stark - and unwelcome - illustration of how Americans' work ethic often pales in comparison with their peers from overseas.

My "C,'' "D,'' and "F'' students this semester are almost exclusively American, while my students from India, China, and Latin America have - despite language barriers - generally written solid papers, excelled on exams, and become valuable class participants.
There are 615 comments!
More recently, Keith O'Brien contributed this thoughtful essay to the Boston Globe ideas section.
According to time-use surveys analyzed by professors Philip Babcock, at the University of California Santa Barbara, and Mindy Marks, at the University of California Riverside, the average student at a four-year college in 1961 studied about 24 hours a week. Today's average student hits the books for just 14 hours.

The decline, Babcock and Marks found, infects students of all demographics. No matter the student's major, gender, or race, no matter the size of the school or the quality of the SAT scores of the people enrolled there, the results are the same: Students of all ability levels are studying less.

"It's not just limited to bad schools," Babcock said. "We're seeing it at liberal arts colleges, doctoral research colleges, masters colleges. Every different type, every different size. It's just across the spectrum. It's very robust. This is just a huge change in every category."
We like to say there's only one thing harder than our year-long teacher residency.
That's the rookie year of teaching we're preparing you for...