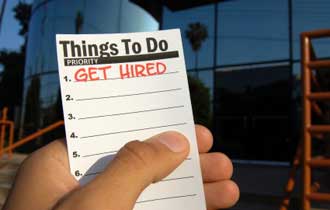 Things are tough all over. From Texas:
Out of the 51 University of Mary Hardin-Baylor education students who graduated Saturday, less than 5 had found positions at public or private schools for next year.
From upstate New York:
Bill Hayes, a retired Byron-Bergen superintendent who has taught at Roberts Wesleyan College for 17 years...has 25 students in his (Ed School student teaching) class. Only one has been offered a teaching job and that's at a school in Florida.
The NY Times ran a story last year on the same topic:
At the University of Pennsylvania, most of the 90 new teachers who graduated last weekend are still jobless.
Our job placement: so far, 28 out of 28 MATCH Teacher Residents have accepted teaching offers. Many chose among multiple offers, like free agents in sports.
Our teacher prep program has 4 disadvantages, but 3 Big Kahuna advantages:
Disadvantages:
1. We only train teachers for placement in a very particular type of charter or turnaround school. This diminishes the range of job options.
2. We train folks for middle and high school math and English. While there is a shortage of very good math and English teachers, there is no shortage of people who want that job. By contrast, science and special education are in shortest supply. But we don't train in those areas.
3. These particular charter and turnaround schools tend to attract huge numbers of applicants, partly because they attract so much more press and attention that a typical individual school, partly because their kids have had good results.
Now, on the flip side, these schools are replicating, which makes it a bit easier; most district schools are cutting (although many traditional districts, like Boston, tend to make tons of August and September hires even in lean years, after all seniority-based transferring is done).
Still, the numbers are daunting.
For example, the Democracy Prep charter school network, which is growing fast, wrote:
This year alone, we'll select and hire about 60 teachers from an applicant pool of over 8,000; literally, the top 1% of all applicants. Many of these applicants are recent graduates from Schools of Education nationwide, including many with undergraduate or graduate degrees from Ivy League or other elite universities.
So each of our folks typically has to beat out 100 or so folks to land a gig.
4. We charge a placement fee. So all things being equal, presumably any school would prefer to avoid the fee.
Luckily, all things are not equal.
We have 3 Big Advantages.
1. With such a small program, we can pay a ton of attention to each and every trainee.
2. We only graduate folks who a) we believe can make it through this rigorous hiring process (high bar), and b) who genuinely want the job, even after a year of experiencing the gritty reality of it.
3. We only train teachers for placement in a very particular type of charter or turnaround school, which means we have the advantages of specialization. What is the result?
Democracy Prep writes:
We view MATCH Teacher Residency basically as a Green Beret of rookie teachers, where everyone we see has that "special forces" feel. We've had five MTRs apply this year, and so far we've made offers to four. Not just offers, actually; we do a full-court press, running to Boston to try woo them to join our Democracy Prep DREAM Team.

How do MTRs differ from traditional Ed School graduates? Their sample lessons are exceptional; they fully understand how Democracy Prep staff works as a team to close the Achievement Gap; they're remarkably open to coaching and feedback, no matter how blunt; and they can flat-out execute -- build relationships with students and then create a strong day-to-day classroom experience, even as rookie teachers.
Let's break that down.
a. We don't have to explain to trainees how every type of school works. Just our kind. The trainees live the experience all day, every Monday to Thursday, when they're not in our Friday and Saturday training.
b. We don't have to persuade our people to accept blunt coaching. It's the only kind we provide.
c. We know many of these school leaders personally. We get detailed feedback from them on our folks who they hire. We use that to improve our training.
The relationships are 2-way. From a principal's point of view, when she calls Orin for a reference check, she's going to hear about the strengths and weaknesses of that candidate. No B.S.
We don't have that uneasy feeling of "Well I just want to tell you the good things because we really want this person to land a job." In the long run, if we blurt the weaknesses too, and the teacher gets hired, then that principal can create the right rookie teacher support plan.